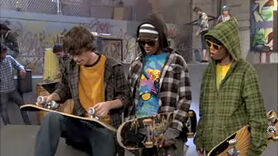 True must design skateboard clothing for Ryan Sheckler. Ryan helps true by putting the clothes on, and tells her they are not very good. True and Lulu decide to go to the skate park, but Ryan tells them it is only for boys. After hearing this, True and Lulu go undercover as boys, to find the type of clothes that skater boys wear, they also find out Ryan can't skate. They then sign Ryan up for the expedition race, and Ryan Sheckler goes undercover as Ryan to help him win (which he does).Meanwhile, Amanda must be nice to her new assistant, Dave, so he doesn't quit.
Note: This is episode Ryan says he doesn't know to skate but in other episodes he can skate.
Guest stars: Ryan Sheckler as himself and Michael Anthony Higgins as Dave
Absent: Greg Proops as Max Maddigan and Robbie Amell as Jimmy Madigan
Previous Episode: Babysitting Dakota Next episode: Telling Amanda
Community content is available under
CC-BY-SA
unless otherwise noted.