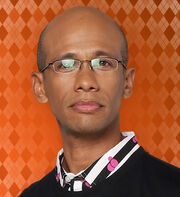 Oscar
Oscar
(Ron Butler) is the receptionist of Mad Style.
Characteristics and Traits
Edit
Oscar (Ron Butler) is the receptionist of Mad Style. He is the one who tells True when she is late for a meeting. He is very calm and gives good advice. He always seems to know what everyone is doing. He is always making lemon squares, which True and the others enjoy. He, like Amanda, is obsessed with the soap opera Space Plantation. His secret is that he breaks Mr. Madigan's horse statue almost every day, and replaces it with another one each time that happens. He has a sister named Kreuflva. He appeared in all 26 episodes in Season 1 and appears as a main character in Season 2, but starting with the second season, Butler is credited in the opening credits in only the episodes he appears in.
Love Interests
Edit
It's implied in "True Matchmaker" that he might have a crush on Amanda, as they both enjoy the same show and looked for a moment like they were about to kiss at the end of the episode.  He also seemed very disdainful over Amanda's relationship with Brock.
Monday the 16th isn't any better.
I keep replacing it! Wanna horse?
The heart wants, what the heart wants, Amanda.
You watch Space Plantation?!
Mad Style, please hold.
Mad Style, how may I direct your call?
Community content is available under
CC-BY-SA
unless otherwise noted.